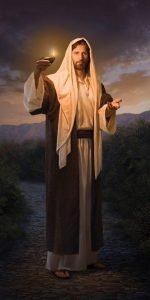 It has been 2 weeks since the day I participated in a "Spiritual Exercises" course. Until now, I still remember the feeling and inspiration in my soul during and after the time when I live in the spiritual atmosphere wholeheartedly. Never before did I know about such a course which connects my soul to God. Luckily, thanks to a friend, I had a chance to know about the course which lasted 7 days. It took place at the Retreat House of Benedict Community in Thu Duc District.
During the course, I really impressed with a kind companion who has deep experiences with God. Her name is Hoa. She is a sister in The Sisters of Our Lady of the Missions Community. She helped me encountering with God in those days. Moreover, she is always cheerful and supportive. She explained everything clearly, in a humorous yet easy way to understand, especially the experience with her personal twist. The important thing I never forget is that she told me to read the bible appreciatively, so that I could realize the miracle that God fulfils in my life.
The Spiritual Exercises course has had a great impact on me. I have learned how to apply little things from the bible in my daily life. For example, I know how to plan and organize my life in the view of God's love for me. I have been encouraged to commit myself to witness for God's love in the rest days of my life. I will walk under the inspiration of the Holy Spirit. Moreover, I have learned about the rules of discerning spirits within motivations in my soul to know follow what is from God and good spirits and to go against what is from bad spirits. I feel peaceful since now on because I could figure out what I should do for a better life in God's providence. I could avoid the bad habits and negative thinking, and so on so forth.
Additionally, I have understood that God is always beside the miserable people and helps them to overcome the obstacles they face, for Christ became one among us and undergone everything belonging to human affections except sins. Consequently, I trust in the love of God for me. I have realized that God can withdraw the good things from the bad things we are facing, in the same way as Christ experienced in His Passover. I am called to empathy and support those who are in need, those I will meet in my life despite of their belief.
In conclusion, I give thanks to God for granting me a chance to make spiritual exercises, so that I know more about God and myself as well. it was because of this experience; my barren belief was nourished grown up. I am called to love God and other people as God has loved me. And last but not least, I would like to offer all my mind, freedom, and whole body to follow God's will in all paths of my life.
Agnes Nguyễn My