To be priests like St. Francis Xavier
Message at the end of the ordination of six Jesuit priests
Ho Chi Minh City, 3 December 2018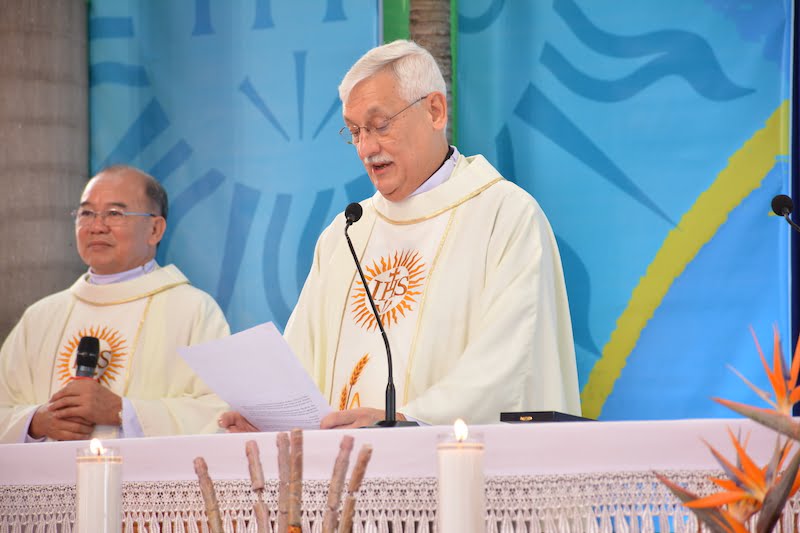 I am very happy that, on this first full day of my first visit to Vietnam, my first activity is to participate in the priestly ordination of six of our brother Jesuits. I want to thank, first of all, His Excellency, Archbishop Joseph Nguyen Chi Linh, for ordaining our brothers. I also wish to congratulate and thank the families of our new priests, especially their parents. Thank you for forming your sons well and for generously sharing them with the Society and the Church. Thank you too to all present here–friends, fellow religious, diocesan clergy, and brother Jesuits –of the new priests. Let us continue to support them with our prayers.
I now want to say a brief word to our new priests. Brothers, I share your joy as you receive the gift of priestly ordination in the Society of Jesus that you have been preparing for over so many years. But, please always remember, this is a gift God gives to you, not for yourself, but so that you can serve God's people, within the Church according to the charism and way of proceeding of the Society of Jesus.
It is very meaningful that you are being ordained on the feast of our great brother, St. Francis Xavier. Let him inspire your priesthood in three ways. First, his total availability to be sent. You know that he was not originally the one who supposed to have been sent to Asia. But when Nicolas Bobadilla became seriously ill at the last minute, St. Ignatius asked Francis to go, and Francis went without any hesitation and with joy.
Second, Francis' creativity in view of the mission of spreading the Gospel. Francis truly went to the frontiers, to places in Asia where no one had ever preached the Gospel. He knew how to change and adapt his methods, depending on the context and the people he sought to serve.
Third, his deep and affective union with his brother Jesuits. Even though he was far away from Europe, in his heart, he was always deeply united with St. Ignatius and with his brothers.
Brothers, I pray that you will always be priests like St. Francis Xavier: free to be sent to mission; going to the frontiers with creativity; and always happy to share your life-mission, to be part of a team with your brothers and other companions in the one mission of Christ.  The world is hungry for the wisdom, the joy and the hope of the Gospel. God bless you as you go forth, servants of Christ's mission, priests with the heart of Jesus, the Good Shepherd.
Fr. Arturo Sosa, SJ
Superior General of the Society of Jesus