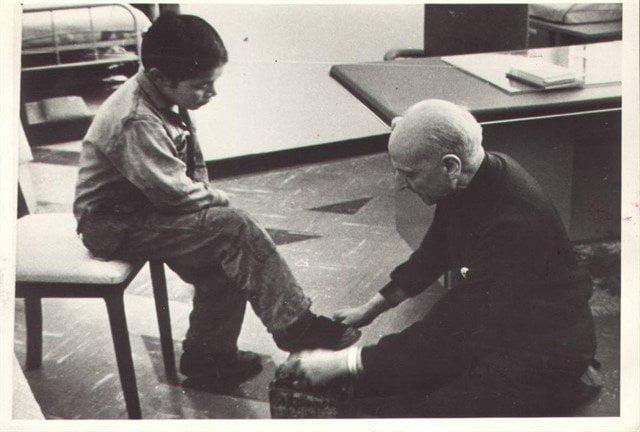 Cause of Beatification and Canonization of the Servant of God PEDRO ARRUPE GONDRA, S.J.
EDICT
On February 5, 1991, servant of God, Pedro Arrupe Gondra, S.J. received his eternal reward.
The Servant of God, admitted to the Society of Jesus in 1927 and ordained in 1938, was missioned to Japan where he served first as Master of Novices, then as Provincial. In 1965 he was elected as the 28th General Superior of the Society of Jesus. He fell ill in 1981 with a sickness that prevented him from moving or communicating, and in September of 1983 the 33 rd General Congregation of the Society of Jesus accepted his resignation.
The Servant of God consecrated himself to the cause of the Kingdom of God, professing his faith and promoting enculturation in the field of evangelization. His life was full of acts of charity and love for the Church, and of faithful obedience to the Supreme Pontiffs. He let himself be guided by the wisdom and freedom that comes from the Holy Spirit. He was an attentive observer of the "signs of the times," as well as a "prophet of conciliar renewal." Today the figure of the Servant of God continues to be admired and venerated both within the Society of Jesus and throughout the world.
With this reputation for holiness constantly growing with the passage of time, and having formally requested the initiation of the Cause of Beatification and Canonization of the Servant of God, we bring this cause to the attention of the Ecclesial Community and invite each and every one of the faithful to communicate directly with or to send to the Diocesan Court of the Vicariate of Rome (Piazza S. Giovanni in Laterano, 6 – 00184 ROMA) any news that contains elements favorable or contrary to the fame of sanctity of said Servant of God.
In addition, we request —in accordance with the legal provisions of this EDICT- that all writings attributed to the Servant of God be sent with due diligence to the same Tribunal unless they have already been delivered to the Postulation of the Cause. Please understand that these writings include not only the printed works of the Servant of God, which have already been collected, but also manuscripts, diaries, letters and any other private messages. Those who wish to keep their originals may present a duly authenticated copy.
This EDICT will be public for two months on the doors of the Vicariate of Rome, as well as published in the newspapers, L'Osservatore Romano and Avvenire, and in a bulletin of the Society of Jesus.
Given in Rome, at the Headquarters of the Vicariate, on December 3, 2018.
ANGELO Card. DE DONATIS Vic. Gen.
Marcello Terramani
Notary