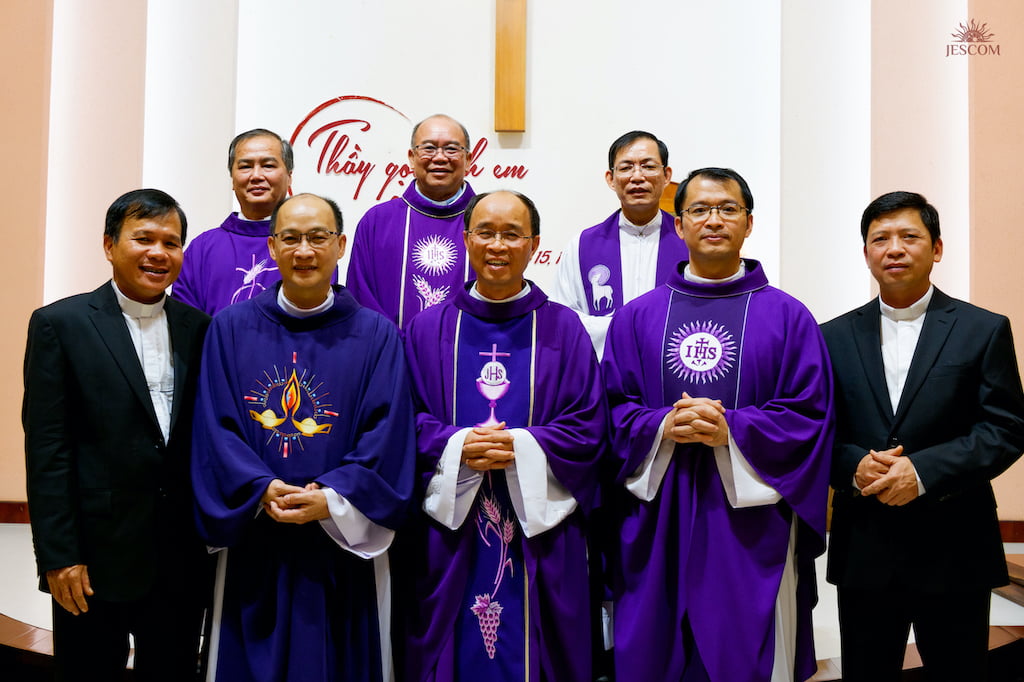 From left to right: Br Joseph Duong Minh Quan SJ, Province Socius Fr Andrew Pham Van Tu SJ, Development Office Director Fr Joseph Do Cao Bang SJ, Vietnam Provincial Vincent Pham Van Mam SJ, Novitiate Socius Barnabas Vu Minh Tri SJ, St. Joseph Jesuit Scholasticate Rector Fr Joseph Pham Tuan Nghia SJ, Fr Joseph Vu Uyen Thi SJ, and Br Joseph Dinh Viet Hung SJ.
The Jesuits from the nearby community were present, together with family members of the five. Due to COVID-19 safety protocols, the Mass was streamed live for those who joined virtually.
According to the Constitution of the Society of Jesus, the Jesuits are called to make final vows after their basic formation process and the Tertianship: "[…] those persons will be judged suited for admission to profession whose life is well-known through long, […] exercising themselves in spiritual and corporal pursuits which can engender in them greater humility, abnegation of all sensual love and will and judgment of their own, and also greater knowledge and love of God our Lord" (The Constitutions of The Society of Jesus, No. 516). Through the profession of final vows, the Jesuits are invited to integrate fully into the apostolic body of the Society of Jesus. They "ought to be admitted … more intrinsically as members of one same body of the Society" (The Constitutions of The Society of Jesus, No. 510).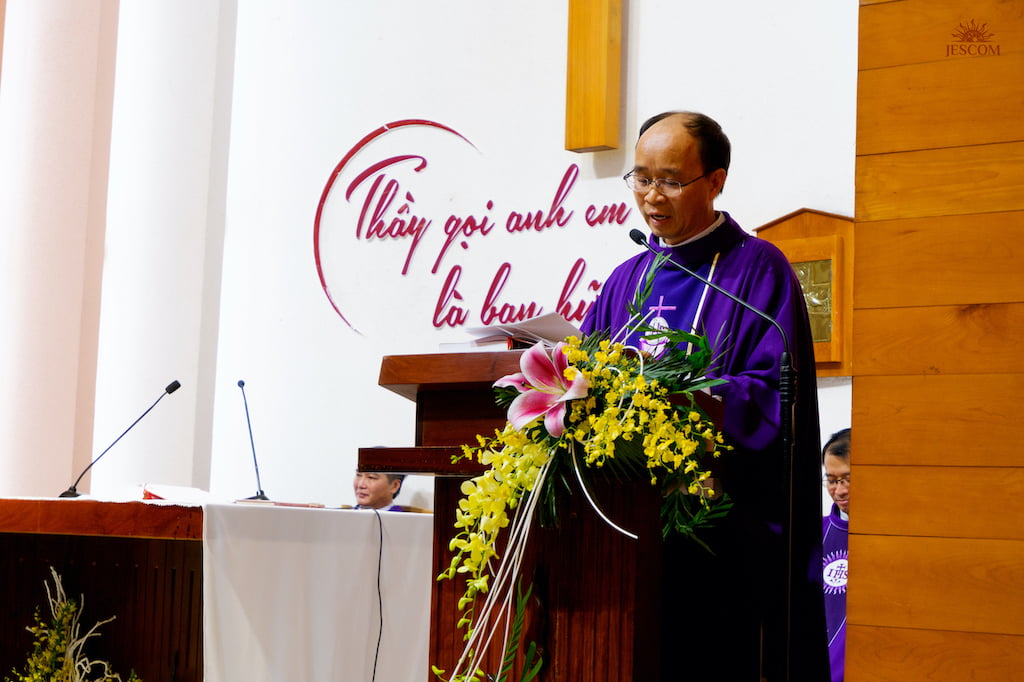 In his homily, Fr Barnabas Vu Minh Tri connected the spirit of Advent with his final vow event. He shared joys and sorrows, difficulties and advantages on the journey of following God, which is transforming oneself to be better every day. He also reflected on the call of John the Baptist, who invites people to "prepare the way to welcome the Lord, to straighten the crooked paths of their lives through a radical conversion of heart." "Only by such a radical conversion, the Jesuits can come closer to God and be able to proclaim the Good News to the world," Fr Tri said.
 At the end of the Mass, Father Provincial, on behalf of the whole Province, congratulated five Jesuits on their profession of final vows. He also expressed his sincere gratitude to their relatives and benefactors for their prayers and support.
The Mass, which took place at 5:30 PM, was followed by a party at the refectory of St. Joseph Jesuit Scholasticate. The Jesuit communities congratulated the newly professed Jesuits and gave them meaningful gifts during dinner.