In collaboration with religious of some congregations, benefactors, and volunteers, the Jesuits in Can Tho, have organized an assistance program entitled "God is Love" during the COVID-19 pandemic with the aim of supporting low-income families who are seriously affected by COVID-19 in Can Tho.
Sisters from the Sisters of the Divine Providence and the Daughters of Our Lady of Binh Thuy collaborate with the program to provide donations to the needy.
Jesuits and volunteers prepare food donations and distribute them for the needy
This initiation of Fr. Phuc has been strongly supported by his fellow Jesuits in Can Tho. With the support of benefactors and the Province's Social Apostolic Office, the program has raised a total of VND 910 million (USD 39.565) in donations to help families affected by the pandemic. The program has provided 45 tons of rice, 3.500 bottles of fish sauce, 2.000 kg of sugar, and 1.000 kg of fish, eggs, and vegetables. Many people were shedding tears when they received rice and gifts from the program.
To help the program in providing food donations for the needy, Fr. Peter Nguyen Duc Thang, SJ, has invited volunteers from the Examen Prayer group to join the program and assisted them in visiting poor families in affected areas. Br. John Tran Hong Long, SJ and Sch. Dominic Phan Van Quynh, SJ, have also visited and sent gifts to families in lockdown areas.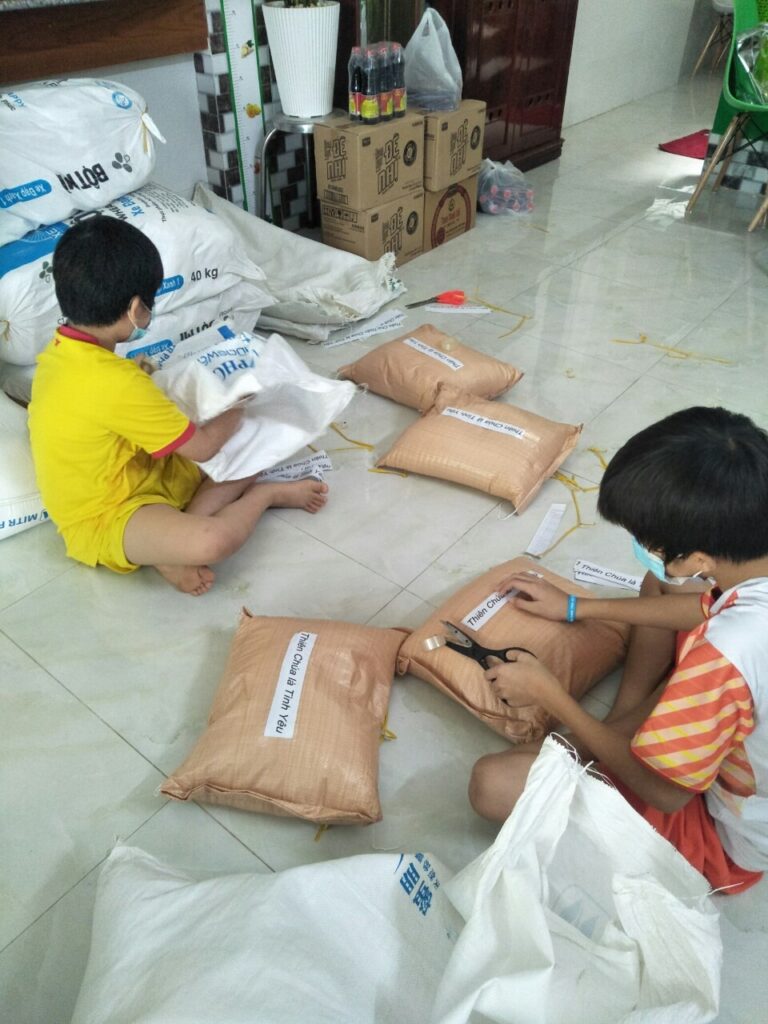 "The core message of our program is God makes his love grow in the hearts of people of goodwill amid sufferings caused by the pandemic. For this reason, we labeled the theme of our program: 'God is Love' on food donations before sending them to struggling families," adds Fr. Tuan Phuc. Besides this program, the Jesuits also support rice for a charity kitchen to provide free meals for the poor.