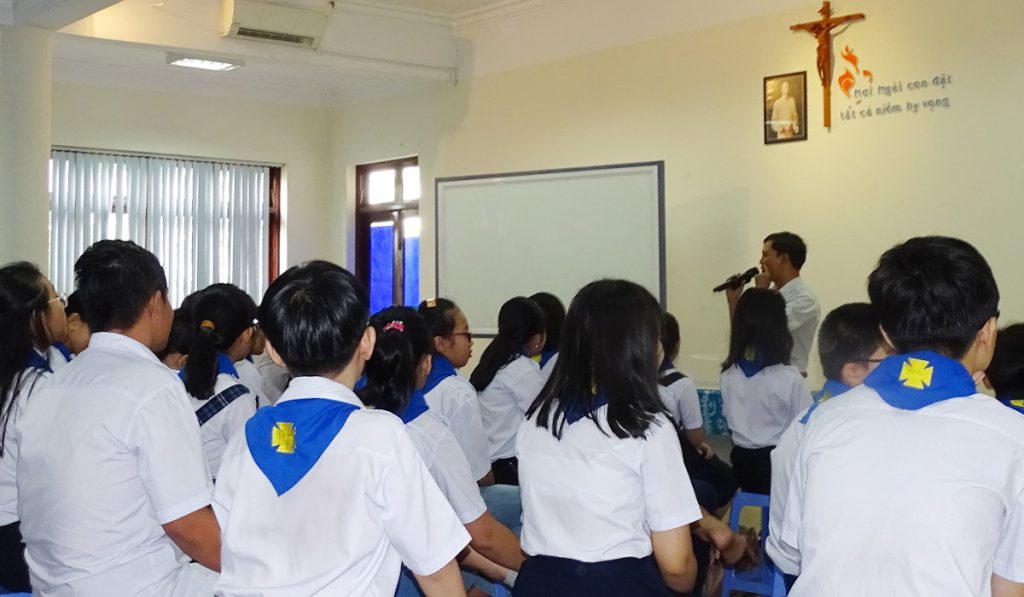 Child sexual abuse is a growing concern in Vietnam. In the last three years, an average of 1,000 child sexual abuse cases were reported every year. Roughly one child was sexually abused every eight hours. In 2017, the Vietnamese Jesuit Province issued guidelines on the protection of children, adolescents, youth and vulnerable adults, and a protocol on child sexual abuse.
This September, the Jesuit parish of Hien Linh in Ho Chi Minh City organised a talk on sexual abuse to children and adolescents aged 10 to 15 years old. One of the four Universal Apostolic Preferences of the Society of Jesus is journeying with young people in the creation of a hope-filled future. The activity sought to accompany children and adolescents in learning proper sex education.
It was the first time for the parish to hold a talk on such a sensitive topic. While schools in other countries start educating children about sex as soon as possible, Vietnamese students are not provided with this knowledge at least until junior high school, if at all. Only by understanding sex and how it works can they know what sexual assault is and the strategies for prevention and protection. Dr Joseph Quang-Chinh Le talked to the children about the psychophysiology of the age of puberty, sexual abuse and its prevention.
The talk also aimed to raise awareness among parents. Parents and families play an essential role in supporting their child's sex education. Parent engagement results in longer term benefits of child protection from sexual abuse. Since most Vietnamese families are not provided proper education, many parents do not have a proper understanding of the matter.
Another goal of the activity was to enhance public awareness of empathic responses towards victims of sexual abuse. Child sexual abuse is often hidden and considered socially sensitive. This is more so in Vietnamese culture wherein existing legal frameworks as well as the reputation of the family discourage Vietnamese men who have been sexually abused or assaulted from confronting their perpetrators. This makes it is harder to put molesters in jail. It is essential that Vietnamese civil society applaud the courage of all those who have come out and spoken openly against it.
Despite the activity's limitations in terms of time, participants and approaches, the children and adolescents considered the talk necessary and helpful in response to the reality of child sexual abuse, especially that only a few talk about this evil in Vietnam today. Moreover, they had the chance to learn how to keep themselves and their friends safe from sexual assault. They expressed that any future talks should be more practical than theoretical and more specific than general.
Children and adolescents need to be taken care of, listened to more and understood better, especially when it comes to sexual abuse. It is a major concern of the Church and the Society. As Pope Francis said in his exhortation to young people, Christus Vivit: the youth are not simply the future of the Church, but the present.
Scholastic Joseph Quoc-Tuan Nguyen SJ is a Regent working in the Jesuit Tao-Tac Parish ministry. He worked in Hien-Linh Parish for two years from July 2017 to October 2019.
Source: https://www.jcapsj.org/2019/11/hien-linh-parish-teaches-children-about-sexual-abuse