By Fr. Vincent Pham Van Mam, SJ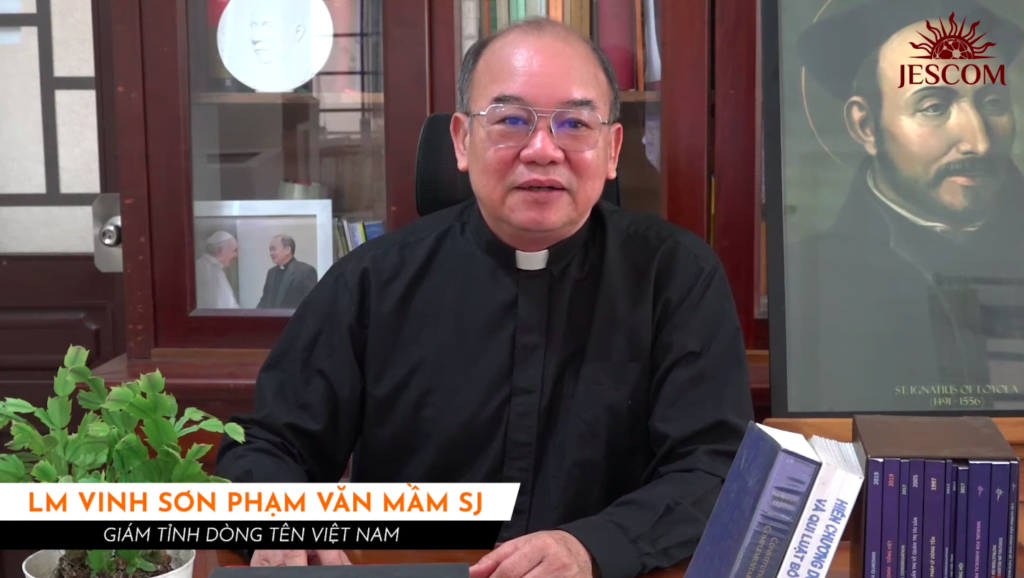 Words like "Leader" and "Leadership" are today's "hot" terms. If we search for information about these words on google, we can immediately see a few hundred million results in an incomplete minute. This proves that the important role of leader and leadership in an organization or community. Definitions of a wise leader are generally defined as someone who has a clear vision with profound and trustworthy qualities and the ability to help others achieve or accomplish their goals. Saint Ignatius of Loyola has such qualities to be considered one of the wise leaders.
BE TRAINED TO BE A SCIENCE LEADER
1. Change of vision
Ignatius' defeat at Pamplona on May 20, 1521, and his convalescence in Loyola opened for him a whole new page in history: a change in perspective or vision. Indeed, in re-reading his life, Ignatius realized that the "vanity of life and joy" he had pursued for the past 30 years was meaningless; on the contrary, deep, long and lasting joy arose every time he wished to imitate the good example of the saints who followed and served Christ. These experiences over and over became the starting point of the divine grace (distinguishing between good and evil) that God used to lead Ignatius to a landmark decision: instead of being a knight generous and faithful of the earthly king, the king of Spain, he aspired to be the generous and faithful knight of Christ, the Living King. A supernatural vision, a new dream, opened to the life of the knight named Ignatius. Ignatius was trained by God to be a leader with divine vision.
2. Apostolic MissionIgnatius left Loyola for Manresa after about 9 months of convalescence with the desire to find God's will about the future. Here, God taught Ignatius "like a teacher teaches a child" through a three-step process of spiritual formation: first, practicing the ascetic lifestyle of the pilgrim; the second is the experience of the night of faith (temptation, confusion over past sins, anxiety about the future); third is to receive enlightenment and great enlightenment. Enlightenment enables Ignatius to understand the truths of faith: about the Trinity, Creation, Redemption, Eucharist and the Church. The gift of enlightenment on the banks of the Cardonner River was the most sacred gift that enabled him to understand clearly and clearly the revelation with the eyes of his heart. The fruit of this process was that Ignatius realized the Apostolic Mission: To serve Christ by helping souls.Vision is still just a dream! Manresa is where God taught Ignatius how to make dreams come true: to commit yourself to nan Apostolic Mission, to win hearts for Christ.
3. Live the Practical Faith
This new vision and mission of Ignatius was confirmed in a vision at La Storta in mid-November 1537 when the group was on their way back to Rome to "put themselves under the direction of the Pope, as had been foreseen if the group's pilgrimage to Jerusalem was not possible. In that vision, the Father points to Ignatius and says to Jesus carrying the cross: "I want you to take this man to serve you." Then the Son said to Ignatius: "I want you to serve Us."
For Ignatius and his companions, the "consecration" to the Vicar of Christ on earth at his disposal in his apostolic mission has a profound meaning: because through the Vicar of Christ, they clearly see it. God's will, finds more apostolic richness, responds to the demands of the Church's universal mission, and devotes himself more completely to the service of Christ. Thus, when all apostolic activities are under the guidance and direction of the Church, Ignatius truly becomes a leader who lives a practical faith, that is, puts his trust and entrustment completely to God.
IGNATIUS: A WISE DIVINE LEADER
The wisdom that Ignatius received after conversion is not worldly wisdom to gain position, fame, fortune, and political power… but the wisdom of the Gospel, that is to receive know God is the Source of existence and the end of one's life. Ignatius wrote: "Man was created to praise, honor and serve God and thereby save his soul" (Sp.Ex. 23). In this direction, Ignatius used her spiritual experiences, which were later condensed into a manual called the "Spiritual Exercises," to help people find their way to God.
When practicing spiritual exercises, Ignatius helps spiritual practitioners (athletes) to realize and realize the Source or savior of their life (Sp.Ex. 23) to embark on a journey of radical purification from deviations from putting oneself face to face with Jesus on the cross (Sp.Ex. 45-72).
The athlete, in spiritual exercise, is assisted not only in his personal purification, but also in discovering his mission and ready to commit himself to the mission God calls him as he contemplates the "falling world" "with God's saving gaze, and knowing how to open one's heart to Christ, so that with Him, generously giving oneself to help others to attain salvation (Sp.Ex. 91-189).
By practicing spiritual discernment, Ignatius helps athletes to recognize the prompting and inspiration of the Holy Spirit so that they can choose a lifestyle and state of life that match their supernatural destiny to achieve true happiness. in the vocation to which each person is called (Sp.Ex. 313-336).
In inviting athletes to have a "Church-like feeling", Ignatius helps them live and practice their faith in depth based on faith: The same Spirit of the Risen Christ is guiding the Church and believers (Sp.Ex. 352-370).
In inviting athletes to practice "Contemplation in Action," Ignatius helps athletes to recognize God, Creator and Savior, who is constantly present and active in creation; and at the same time invites them to contribute to the completion of the work of creation and redemption accomplished in Christ (Sp.Ex. 230-237).
Ignatius invites athletes to discern and practice the "magis, more" that God calls them to manifest in their personal life and apostolic mission. This 'more' comes from Ignatius's strong conviction that "God is active in this world and He wants everyone to be in tune with God's will…" with a commitment that is not rest for God to be glorified and man to attain his salvation.
If a spiritually wise leader is identified as someone with a supernatural vision with vivid faith qualities in depth, has an effective course of action to realize the divine vision, can help When others achieve or fulfill a supernatural end, Ignatius has all these qualities, and as such, Ignatius is truly one of the spiritual, wise, and service leaders.