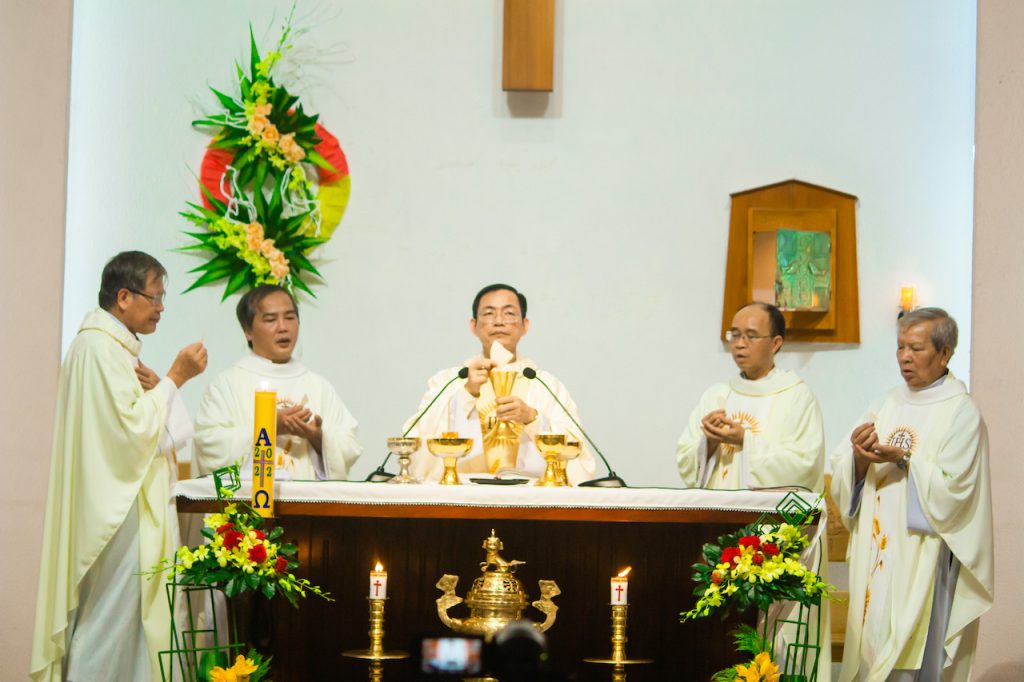 Jesuits, friends, and benefactors of the Vietnamese Province together with Fr Nghia's parents, family members, and guests gathered at St. Joseph Jesuit Scholasticate give thanks to the previous leadership and welcome the new.
In his farewell message, outgoing Provincial Fr Vincent Pham Van Mam, SJ expressed his heartfelt congratulations to Fr Nghia on the occasion of his inauguration as the new Provincial of the Vietnam Jesuit Province. Fr Mam also showed his deep gratitude to his fellow Jesuits, collaborators, and benefactors of the Province for supporting him during his ministry as the Provincial.
In his homily, based on the perfect model of Mary who totally dedicated her life to God and the theme of the Synod on Synodality: "For a Synodal Church: Communion, "Participation, and Mission," which is considered one of his most important guidelines for his leadership, Fr. Nghia talked about three main points regarding his 6-year provincial term, the life and mission of the Province in the coming 6 years.
First, Fr Nghia invited Vietnamese Jesuits who belong to a "Provincia minima" to be aware of their humility and collaboration. "The Society of Jesus in Vietnam has continued to contribute immensely to nation-building and the local Church through a collaboration with other congregations, diocesan priests, benefactors, and all people of goodwill under the guidance of the Catholic hierarchy in Vietnam to bring about communion with God and with each other," Fr Nghia said.
A provincial becomes a true leader not by seeking power over his province but in serving, encouraging, and accompanying his Jesuit brothers, collaborators, and benefactors entrusted to his care, Fr Nghia emphasized when he was talking about the roles of a provincial. In addition, he reminded the Jesuits "to go beyond a local mindset to embrace the universal mission of the Church entrusted to the global Society of Jesus" and that they need to prepare themselves more carefully to be ready to go anywhere and to do all things for the greater glory of God.
Finally, he reflected on the meaning of servant leadership through which he has chances to "commit himself to God's mission through the Church and the Society" as well as "to serve and care for [his] fellow Jesuits in sickness and in health" as a real joy of the Jesuit life.
At the end of the Mass, on behalf of the whole Province, Fr. Andrew Pham Van Tu, SJ, Province's Socius, expressed his deep gratitude to outgoing Provincial Vincent Pham Van Mam, SJ for his 6-year service and commitment. Fr. Tu also extended heartfelt congratulations to incoming Provincial Joseph Pham Tuan Nghia, SJ for his availability and obedience to the mission that Fr. General entrusted to him.