On 5 June 2014, with the permission of the local bishop, three Jesuit regents, including Paul Nguyen Van Chi, SJ, Joseph Pham Van Tu, SJ (now left the Society), and Peter Tran Hoan Chinh, SJ, were sent to Nghe An Province to start their student ministry in Vinh Diocese.
Five other Jesuit regents have been sent to Vinh to serve at the Catholic Student Ministry, including Paul Nguyen Hong Nhu Khue, SJ, Joseph Bui The Dung, SJ, Joseph Bui Huy Dat, SJ, Peter Nguyen Van Duong, SJ, Joseph Dang Huu Tuan, SJ, and Joseph Ngo Van Duong, SJ since 2016.
The Jesuit Student Ministry of the Province has collaborated with the diocese of Vinh to offer pastoral programs for around 800 Catholic students who join the Catholic Students Association of Vinh. The Association has been divided into 13 small groups, including Ben Thuy Group, Cua Nam Group, Trung Do Group, Truong Thi Group, Trung Tam Group, Vinh Thanh Group, Pedagogy College Group, Economics Group, Technology Group, St. Luke Group, St. Francis Assisi Group, St. Therese Group, and St. Andrew Group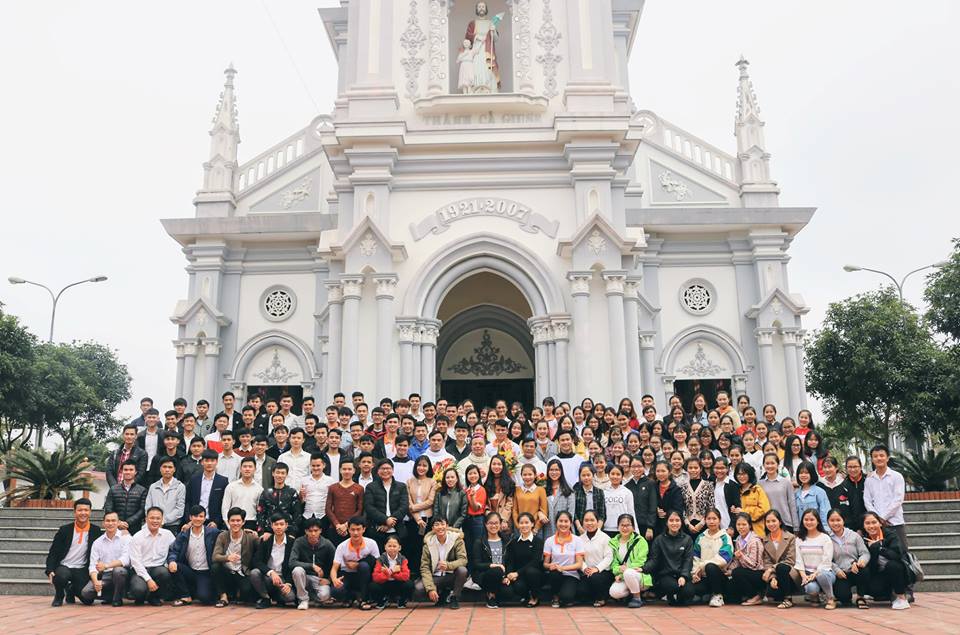 The Association is guided by a diocesan priest officially assigned by the bishop of Vinh and accompanied by Jesuit regents. Every two years, some students are selected from groups to form a committee of 6-10 who are responsible for carrying out common activities, representing the Association, looking after annual programs of the Association.
In collaboration with the Diocese, the Jesuit Student Ministry provides opportunities for students to listen for and live out their callings from God, help them nurture and celebrate their faith, and prepare them for leadership roles in the Church and society. Through liturgy and worship, spiritual formation, monthly recollections, retreats, and service to others, especially to the poor, the students are formed by the Ignatian charism of doing all things for the greater glory of God and being men and women for God and for others.
Every evening from Tuesday to Thursday, Jesuit regents visit groups gathering at some churches or households in Vinh city, to accompany them in various activities, such as faith sharing, Ignatian Examen, team-building programs, etc.
Besides weekly programs, other activities such as Advent and Lenten recollections, leadership training programs, exposure programs, and volunteer community service are organized to help students experience the world around them and be inspired to engage in the mission of the Church.
Although there are no Jesuit-run schools in Vietnam, Vietnamese Jesuits can have a good effect on Catholic students through the so-called "pastoral ministry for students." This ministry exits to accompany students in their journeys of faith, to help them integrate their knowledge and love of God with their lives of service to others, and to help them discern their vocations.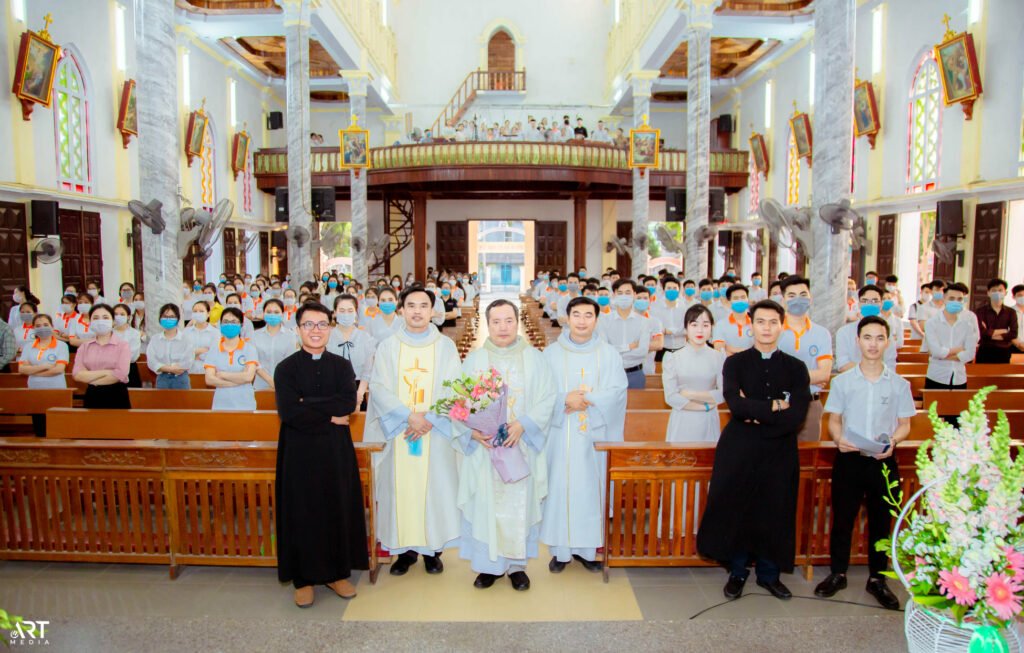 Fom left: Sch. Peter Nguyen Van Duong, SJ, Fr. Joseph Tran Cong Huong, Responsible for the Association of Catholic Students of Vinh Diocese, Fr. Peter Nguyen Van Vinh, Vicar General of Vinh Diocese, Fr. Joseph Vuong Van Dinh, SJ, Superior of St. Joseph de Anchieta Jesuit Community, and Sch. Joseph Dang Huu Tuan, SJ