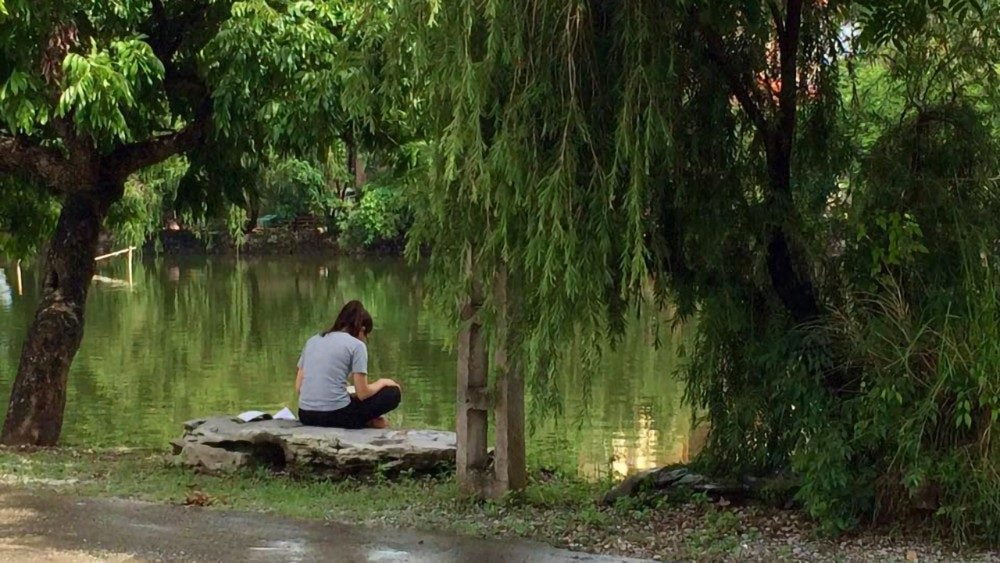 For Catholic students in Vietnam looking to set aside some time for God, Jesuits are offering a unique opportunity to take part in one of several 6-day summer retreats.
---
Though there are no Jesuit-run schools in Vietnam, Jesuits working in the country have a unique way of accompanying thousands of Catholic university students along their spiritual journey. They offer 5-day silent retreats based on the Spiritual Exercises of Saint Ignatius of Loyola during summer holidays. The program's purpose is to help young people turn their summertime into a moment to rest and renew their souls, while at the same time deepening their relationship with God.
Retreat!
The 5-day retreats are organized every year during the months of July and August for students and young professionals aged 17 to 35. Those interested in signing up can visit the website at 
www.linhthaosinhvien.net
 which contains information on various retreat options, along with venues and schedules. The student summer retreats are normally held at diocesan pastoral centers, retreat houses run by religious congregations, or in parishes. Each retreat is guided by a Jesuit and a group of collaborators (mostly sisters from different congregations) who have training and experience in Ignatian spirituality and Scripture. The retreat includes 5 days of silent prayer, followed by a 1-day picnic.
Program
During the retreat portion, students are provided with moving and relevant presentations based on the Spiritual Exercises of St. Ignatius, followed by handouts with suggestions for prayer and abundant time for reflection, opportunities for individual spiritual direction, and 
examen
, as well as moments for the Sacrament of Reconciliation and sharing in the Eucharist. Also, to help retreatants immerse themselves in silent meditation, they are invited not to use any digital devices. Participants spend time each day in prayer and reflection (usually 4 set "prayer periods" of at least 60 minutes) and meet with their spiritual director each day for approximately 15-30 minutes. Spiritual directors listen to retreatants' reflection about how God is present in their lives, as well as consolations and desolations that might happen within retreatants' hearts as they are praying. In addition, a 1-day picnic is held after the retreat to help students get to know each other better through conversations, teambuilding games, and other activities. Afterwards, retreatants can keep in touch with one another through social networks and Facebook groups to share their faith experiences and friendship.
Cost
To make the retreats more accessible to students and young people, benefactors around the world subsidize the retreats through donations. Participants end up paying only half the cost of meals and accommodation, coming to around 12-15 USD for the whole experience.
Take time for pray time
Jesuits offer these summer retreats for Catholic students throughout Vietnam, and the number of retreatants continues to increase rapidly. In 2018, 19 retreats were held with a total of 1,223 students and young professionals. In 2017, 17 retreats were held with a total of 1,132 retreatants. This summer, 19 retreats will be held in different parts of Vietnam. Some young students find it difficult to make time to attend the summer retreats, so the Student Ministry of the Jesuit's Vietnam Province plans to hold more retreats during the year as well. Additionally, the Jesuits also offer another type of retreat known as the "Busy Persons' Retreats", which are held on weekends. These weekend retreats are an adaptation of the Ignatian prayer and are more flexible than the rigorous prayer pattern set forth in the Spiritual Exercises.
vaticannews.va