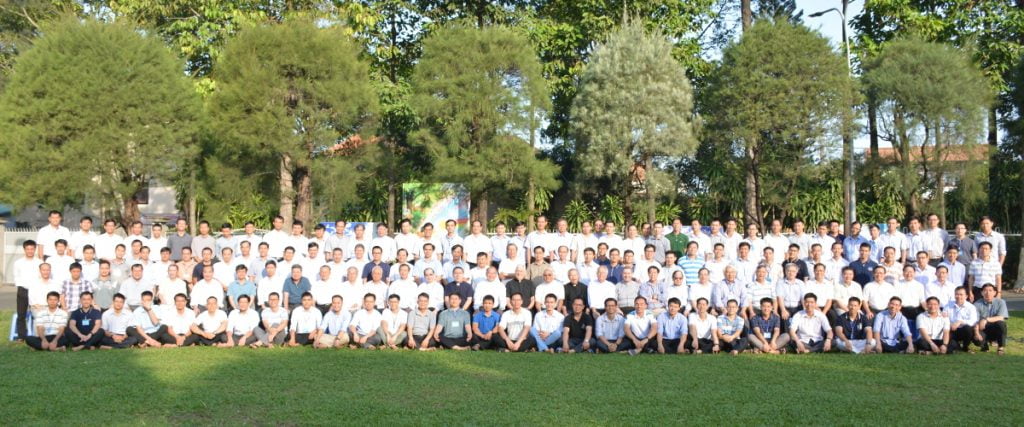 For my Province, the last six days were marked with several beautifully significant events, one of those was the official visit of Fr General Arturo Sosa. We were happy to welcome him, joyful to meet him and delighted to have him stay with us. I appreciated his caring heart like that of a father to his sons, of a brother to his brothers.
Fr General communicated some messages to us; yet for me, the very message is he himself. Taking a look at Fr General's six days in Vietnam, I have come to know that his message is of unity for the universal Society. It was not only his meeting with every part of the Province, from the aged and infirm Jesuits to the novices, but the way he spent time with us also shows that he brings to us a firm bond in one apostolic body. This was the first time Fr General visited us, yet it is obvious that he has the same Ignatian spirit and way of proceeding like his two predecessors Fr Nicolás and Fr Kolvenbach, who also visited us before. Thanks to Fr General, I know in my heart that the Society is all one: we are one to serve God and His Church, His people.
I have realised another meaningful point. Fr General is concerned with the quality of formation. I am impressed that he started his talk to us scholastics and brothers in formation by directly showing his focus on the quality of our formation–the quality, not the quantity. I felt like I was listening to my father, and also a reverend guest. He was with us, not ceremonious, but close and warm. This means a lot to me. Through the way he instructed us to have quality formation, I saw a true spirit and attitude of serving God and His Church; serving but not possessing any pride or fame for what we have done and could do.
Deep friendship in the Lord is what I saw during Fr General's visit to the Vietnamese Province. He was here with us and joined us in all significant events of the Province in a very friendly and simple way: we are a livingly religious family, not an order with strict hierarchy. Through this, he taught me the sense of belonging to the Society. This reminds me of how it is in friendship in the Lord that bonded the First Companions, and now, it is the same friendship that gathers us here.
Thank you, Fr General, for visiting us, for being with us during those six meaningful days.
Scholastic Peter Nguyen Phuc Hoang Dung SJ is a first year theology student at St Joseph Jesuit Scholasticate in Vietnam. He did his regency in Laos, where he taught English and trained catechists.