On 23 January 2020, Vietnam confirmed the first two cases of Covid 19, a Chinese man traveling from Wuhan to Hanoi to visit his son, who lived in Vietnam, and his son, who was believed to have contracted the disease from his father. On 24 January, the Acting Minister of the Ministry of Health of Vietnam ordered the activation of the Emergency Epidemic Prevention Centers. Up to now, the sources of Covid 19 Vietnam are Vietnamese overseas workers and students who back from areas of Covid 19 pandemic such as Wuhan – China, Daegu – Korea, Europe. Some of the Vietnamese participants in religious event in Malaysia, and in a fashion event in Italy also became sources of Covid 19. Beside these sources, some infected foreigners, such as British tourists, Chinese tourists are sources of Covid 19 to Vietnamese. Most of the cases of infections in Vietnam have directly contact with the patients at the same airplanes, vehicles, and houses. As of 28 March 2020, there were 174 confirmed cases, with 21 recoveries and 0 deaths.
To curb the spread of the coronavirus, on 03 February 2020, the Ministry of Education and Training suspended all school activities across the country until 08 February 2020 as part of quarantine measures against the spreading of the virus, and later extended this three times more till the middle of April until further notice.
On a national level, the Vietnam government has appointed 30 screening centers, including Ha Noi Tropical Hospitals, Tropical Hospitals of Ho Chi Minh city, and Pasteur Medical Center of Ho Chi Minh city, as three main centers to carry out testing and diagnosis of Covid 19 disease. The government also has appointed 45 quick response teams to assist health facilities nationwide in the processing and treatment of Covid 19 patients.
On 04 March 2020 Son Loi ward – Binh Xuyen district – Vinh Phuc province where 6 cases were confirmed as positive Covid 19 was declared as the first quarantine site. After Son Loi, many other areas in Ha Noi, in Ho Chi Minh city, and in other provinces where confirmed cases lived were isolated as quarantine sites.
Since the beginning of March 2020, the Vietnamese government has decided to use many army barracks as well as University student dormitories in each province of Vietnam as quarantine sites temporarily for suspected Covid 19 cases. The government has also announced that all people in Vietnam must wear face masks in public places such as supermarkets, bus stations, airports, and on all means of public transport. The foreigners should be aware that they may be denied entry, fined, or detained if they do not have a mask. All travelers on domestic and international flights must wear face masks during flight time and the time they are at the airport. The airlines will provide face masks for free.
As of 07 March, health declaration is mandatory for all passengers entering Vietnam, which can be done by completing a paper form on arrival or a digital form online before the trip. Starting 18 March 2020, Vietnam has stopped issuing new visas to all foreigners in an effort to limit the spread of the novel coronavirus. Beneficiaries of the Vietnamese visa waiver program or Vietnamese and their spouses and children who have a certificate of visa exemption shall only be allowed to enter Vietnam if they can submit documentation from their home country demonstrating they are Covid 19 negative. The new policy applies to all travelers, except those traveling for diplomatic or official purposes. Travelers who arrived in Vietnam before 22 March 2020 have been subjected to mandatory, centralized quarantine for 14 days based on possible Covid 19 exposure.
Starting at 6 p.m. on 24 March Ho Chi Minh City has closed all amusement parks, restaurants with seating capacity for over 30 customers, bars, snooker clubs, gyms, and beauty salons. These closures are in addition to the previous decision on March 15 to close discotheques, massage parlors, cinemas, karaoke lounges, and online gaming centers. Hanoi and other provinces have similar closures in effect.
On 26 March, The Vietnam's Prime Minister has announced that all gatherings of 20 or more people must be postponed for the next two weeks. The Vietnam's Ministry of Health has advised that people, especially those over 60 years of age, should attempt to stay home as much as possible and avoid public areas. Based on the decision of the Vietnam's Prime Minister, all leaders of 27 Catholic dioceses of Vietnam have also announced to postpone all public liturgical celebrations in all their pastoral care territories since 28 March 2020 until further notice. Bishops have also given detailed guidelines on online masses, sacrament services, and Holy Week Liturgy for all members of their dioceses, including priests, religious communities, and parishioners.
At present, the outbreak of Covid 19 pandemic in Vietnam has caused 4 main problems. The first problem is discrimination to foreigners, especially to Chinese nationals who work in Vietnam and to Vietnamese oversea workers and students who returned home. These groups are blamed as sources of Covid 19 pandemic, which need to be avoided. The second problem is the unemployment of many poor people who are teachers and industrial workers because of the closing of their schools and factories. Due to minimal unemployment compensation, many unemployed workers and teachers who are rural-urban migrants, have no enough income for paying their rented houses and basic daily expenses, such as food, electricity, etc. The third problem is the panic of people on the pandemic itself. Local governmental officials try their best to give information on the situation of the epidemic in Vietnam; however, many fake news have been created and spread through Facebook and other ways. So, people confused and doubted the information about the pandemic situation from local governments. Many people were overly panic because of lacking precise information on the pandemic situation in Vietnam. The last problem is the sadness of many pious Catholics, especially Catholic elders who were hard to adapt themselves to the situation of postponing public liturgical community gatherings. These groups frustrated because they did not know how to use electronic devices for attending online liturgical services. O, their faith practices lack communal dimensions.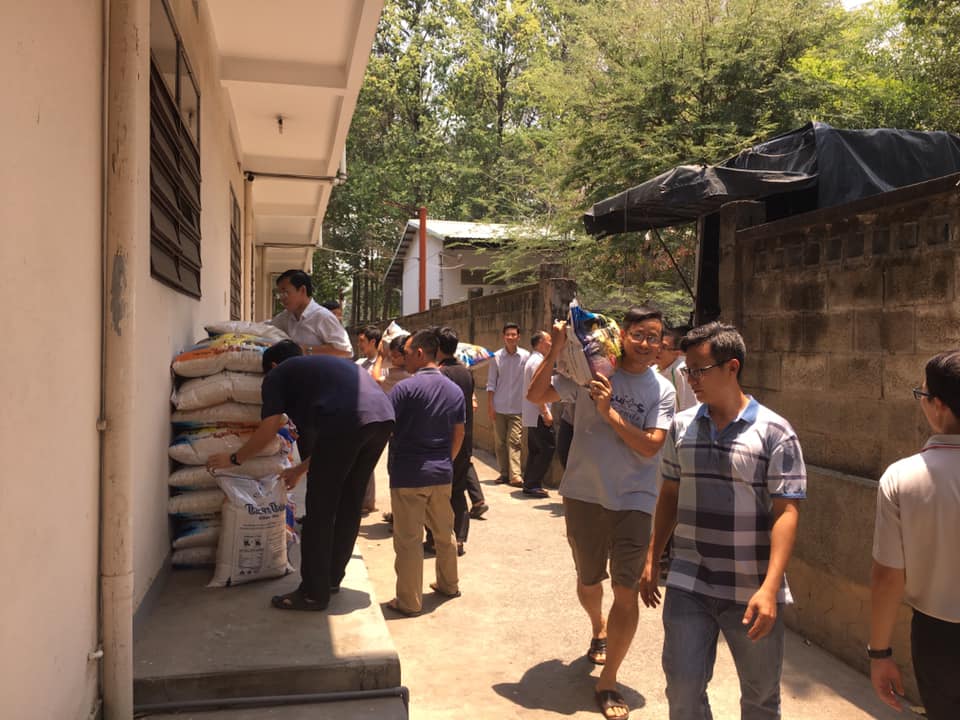 Living amidst the Covid 19 outbreak, the Vietnamese Jesuits lived out the solidarity to the poor by many ways, such as giving trustworthy guidance on how to avoid affection of Covid 19; providing more than 16,000 face masks and 450 liters of sanitizers to people in quarantine areas of Vinh Phuc and Ben Tre provinces; visiting and providing rice and food for poor families in Thu Duc district – Ho Chi Minh City; hearing confession to individual or to small group of Catholic; saying online masses, etc. At present, services of Vietnamese Jesuits are quite limited. However, these services have reminded each member of the province about the spirit of UAPs, which transform us to be men with and for the poor.