After completing two years at the Sacred Heart Novitiate of the Society of Jesus in Vietnam for the first stage of Jesuit formation, 13 novices took their first simple but perpetual vows on the Solemnity of Pentecost at the chapel of St. Joseph Jesuit Scholasticate in Thu Duc, Hochiminh City, Vietnam on May 31, 2020. Fr. Provincial Vincent Pham Van Mam, SJ, presided over the Mass along with Jesuits, family and friends of the newly vowed Jesuits.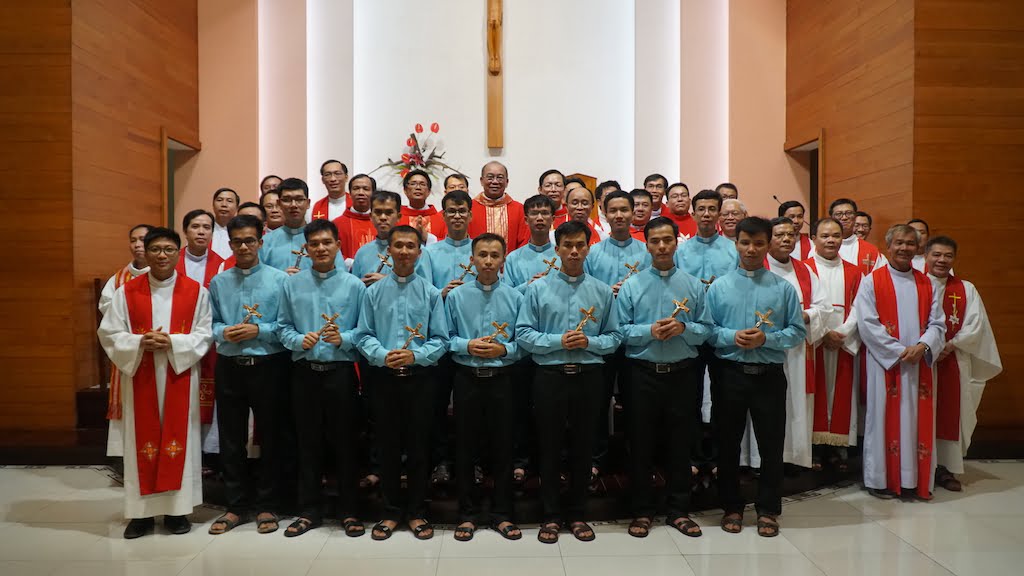 Back row from left: Dominic Tran Dang Khoa, SJ; Joseph Nguyen Dai Nguyen, SJ; Peter Nguyen Van Quynh, SJ; JB Hoang Le Cong Duc, SJ; Dominic Le Bao Loc, SJ.
Front row: Peter Nguyen Van Thu, SJ; Joseph Pham Van Chung, SJ; John Bosco Trinh Thai Son, SJ; ; FX Phan Gia Khue, SJ; Stephen Tran Hoa Hung, SJ; Joseph Nguyen Tuan Ninh, SJ; Peter Nguyen Ngoc Long, SJ.