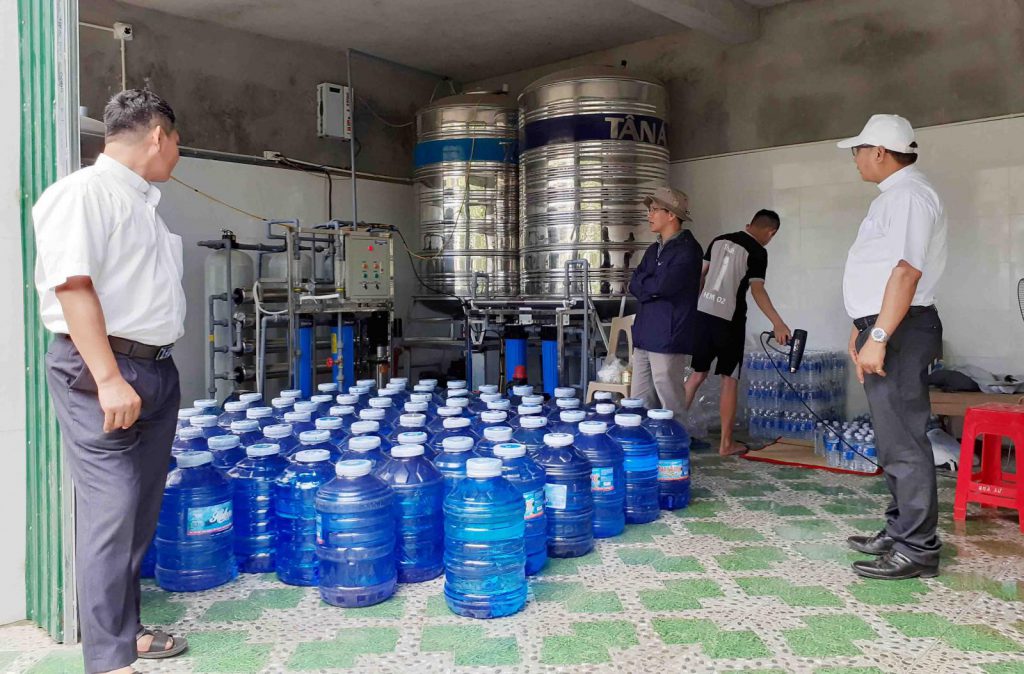 Water-filtration System Supplies Clean Water for Parishes of Ha Tinh Diocese
"Supplying Clean Water Sources and Purified Water" is a pastoral and social program organized by Caritas of Ha Tinh diocese in collaboration with the Social Apostolate Committee of the Society of Jesus in Vietnam. There are many water-filtration systems which have been set up on different parishes of Ha Tinh diocese to provide purified water for both Catholic and non-Catholic residents.
This essential program is initiated by Fr. JB Nguyen Huy Tuan and Caritas of Vinh diocese to help residents of Ha Tinh, Quang Binh and Nghe An, three provinces in central Vietnam which are usually affected by calamities such as drought, typhoon, and floods. The Jesuit Committee of Social Ministry provides around 50% of funding for the water filtration projects of Caritas Ha Tinh to improve the lives of thousands of people of parishes and surrounding areas. The program is also sponsored by benefactors, Fr. Tran Van Tu, and contributions from many parishes. The Jesuit Committee of Social Ministry also provided a groundwater detector system, a water well drilling machine together with other means of conveyance.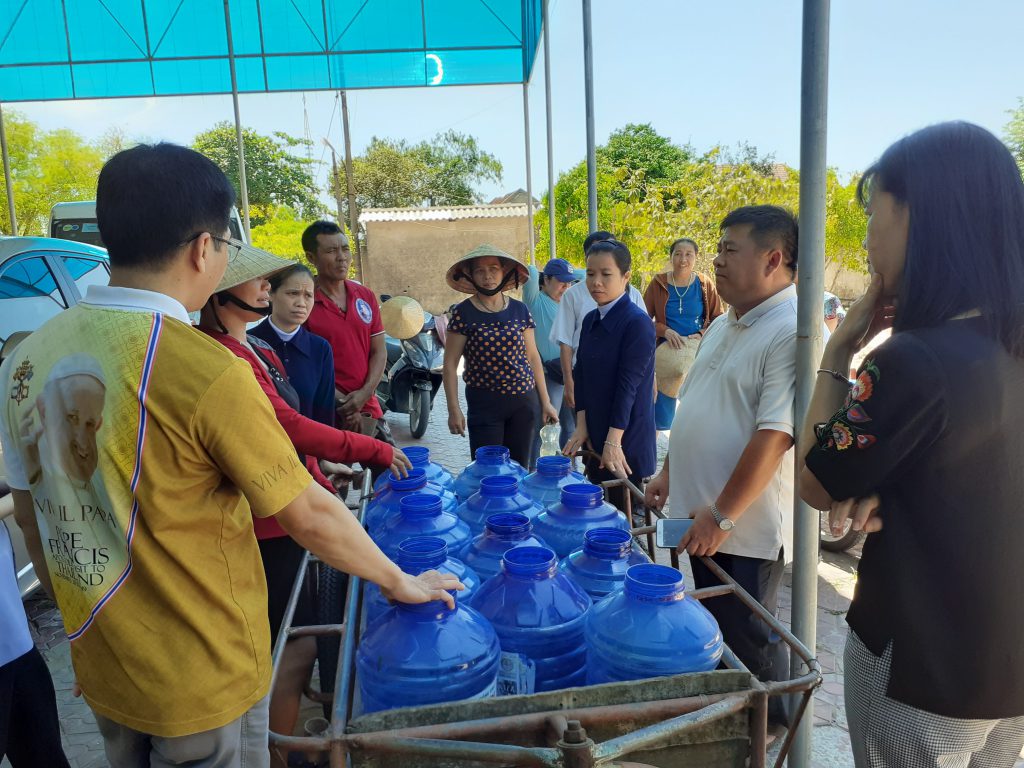 From 10-12 June 2020, Fr. Director JB Nguyen Huy Tuan, head of Caritas Ha Tinh and Sr. Mary Nguyen Thi Dieu, together with Fr. Peter Truong Van Phuc, SJ, Chairperson of the Social Ministry Committee of the Vietnam Province, and Br. Vincent Pham Duc Tuan, SJ, Committee Treasurer, visited water-filtration projects which were installed at 10 parishes and sub-parishes, such as Ky Anh parish, My Thuy sub-parish, Thanh Thuy sub-parish, Dong Son parish, Lang Khe parish, Tan Hoi parish in Ha Tinh province, and Gia Hung parish, Chay parish, Ba Don parish, Lac Thuy sub-parish in Quang Binh province. During their trips, members of the team has also examined and made plans to install more water filtration systems in 12 parishes of the diocese.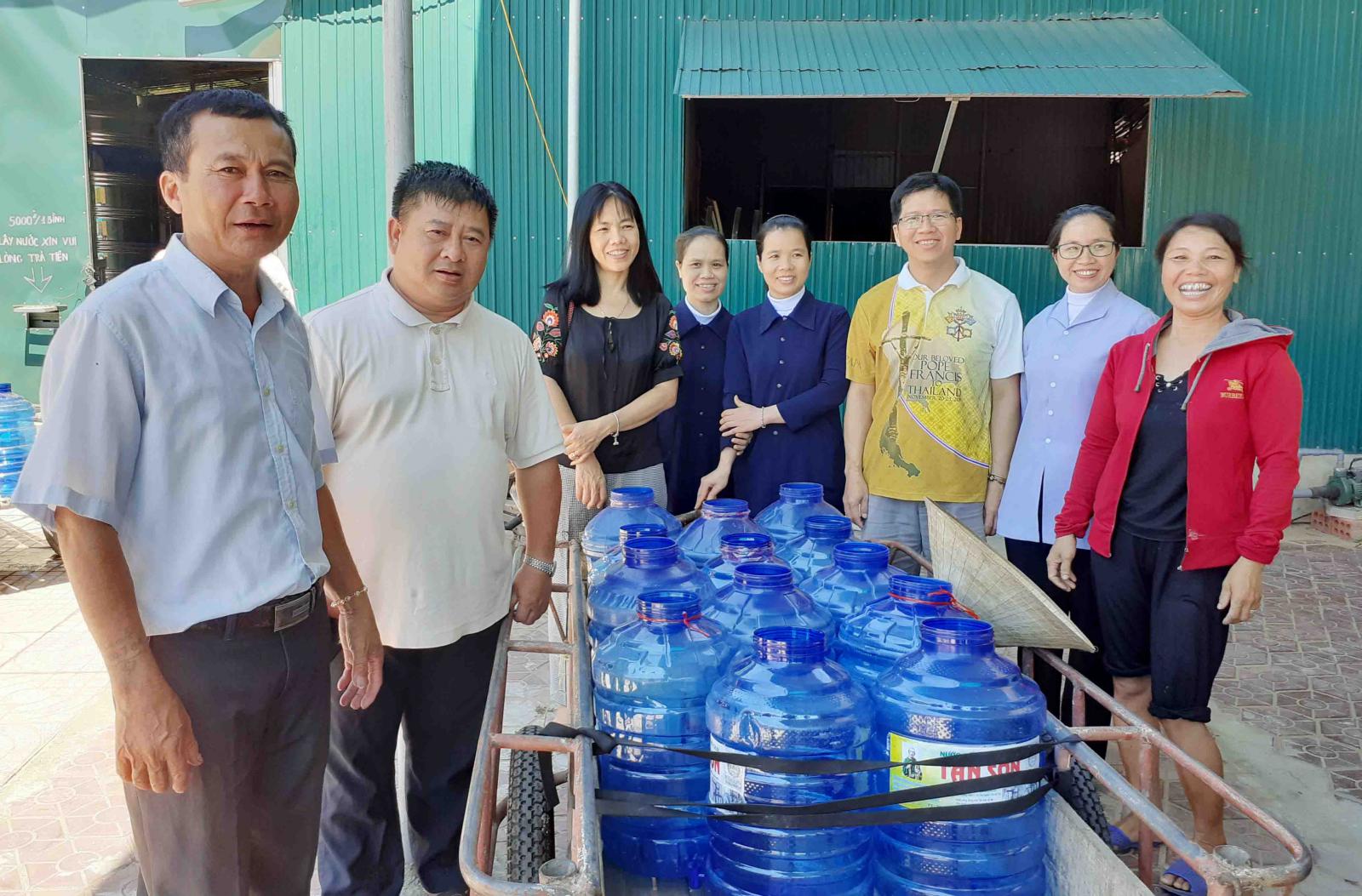 Ha Tinh diocese covers 14,107.4 square kilometers and overlaps the provinces of Ha Tinh and Quang Binh, in north-central Coast of Vietnam. Out of a population of more than two million, Catholics number about 204,000 with 96 parishes. Almost 80% of residents live in rural areas with low living conditions and low intellectual standards. This area is highly exposed to such natural hazards as droughts, floods, typhoons. Therefore, this program of Caritas Ha Tinh is very effective in reducing water-related diseases, improving living condition, and allowing villagers to increase their productivity and begin working themselves out of poverty.
Source:
http://caritasvietnam.org/caritas-ha-tinh-nghiem-thu-dua-vao-su-dung-he-thong-loc-nuoc-va-khao-sat-thuc-hien-chuong-trinh-nuoc-uong-tinh-khiet-cho-nguoi-dan/